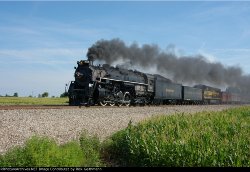 Welcome to the RRPictureArchives.NET contributor site of Rick Geithmann.



Hello everyone.

Though I am new to this site I am a longtime fan of railroading. I have had Lionel trains since I was a little kid and now have a nice sized layout under construction. ( photo's to follow in the future )

I take mostly photo's from around where I live in Northwest Ohio and Southeast Michigan but try to keep a camera handy whenever I am on the road.

A lot has changed around this area and compared to the past rail watching has gotten a bit boring ( thank goodness for the Short Line Guys! ) My son and I remember the days of B&O , C&O , Conrail , Penn Central , DT&I Detroit Toledo & Shoreline , Ann Arbor , Toledo Terminal and others.

Between the two of us we hope to post our photo's of those long gone names in the future. So please check often and ask any questions you want and I will see what I can remember?



You may browse my collection of pictures via the menu located on the left hand side of the page. I hope you enjoy the collection and thanks for stopping by!
Note: This site is best viewed in Internet Explorer 6.0 or above.
Select one of the links from the menu on the left to begin browsing the collection.